Histoplasmosis Maps
Histoplasma, the fungus that causes histoplasmosis, lives throughout the world, but it's most common in North America and Central America. In the United States, Histoplasma mainly lives in soil in the central and eastern states, particularly areas around the Ohio and Mississippi River Valleys,1 but it can likely live in other parts of the country as well.2 The fungus also lives in parts of Central and South America,3 Africa,4 Asia,5 and Australia. Histoplasma thrives especially well in soil or other environmental material containing bird or bat droppings.
Below are maps showing the following topics:
Scientists are still learning about where the fungus that causes histoplasmosis lives.
Approximate areas with Histoplasma
These maps show the approximate areas where CDC knows or suspects the fungus lives. Much of the information about where Histoplasma lives in the United States comes from the results of skin testing studies performed in the late 1940s and early 1950s. These skin tests detected whether a person who had lived in the same county for their entire life had developed an immune response to the fungus Histoplasma.
These maps show CDC's current estimate of where the fungi that cause histoplasmosis live in the environment. These fungi are not distributed evenly in the shaded areas, might not be present everywhere in the shaded areas, and can also be outside the shaded areas. Darker shading shows areas where Histoplasma is more likely to live. Diagonal shading shows the potential range of Histoplasma.
Histoplasmosis outbreaks
Most cases of histoplasmosis are not part of an outbreak. However, histoplasmosis outbreaks linked to a common source occur occasionally, particularly after events that disturb soil or other environmental material contaminated with bird or bat droppings. This map shows the locations of 105 histoplasmosis outbreaks that happened during 1938–2013 and the number of outbreak-related cases by state or territory.6 Some of these outbreaks happened in places where scientists did not expect Histoplasma to live. Investigating histoplasmosis outbreaks helps public health officials understand:
Where the fungus lives
Activities that may make someone more likely to get histoplasmosis
Groups of people more likely to get histoplasmosis
Surveillance for histoplasmosis cases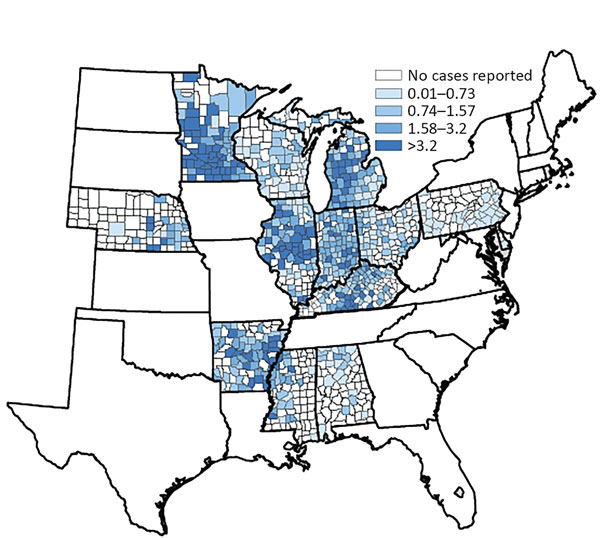 In some states, health departments collect information about histoplasmosis cases. This map shows the average rate of reported histoplasmosis cases per 100,000 people by county for 12 states with available surveillance data during 2011–2014.7 However, these rates cannot be directly compared across states because different histoplasmosis case definitions were used. On this map, cases are classified according to people's county of residence, which might not be where they acquired the infection.
Areas where the environment is likely suitable for Histoplasma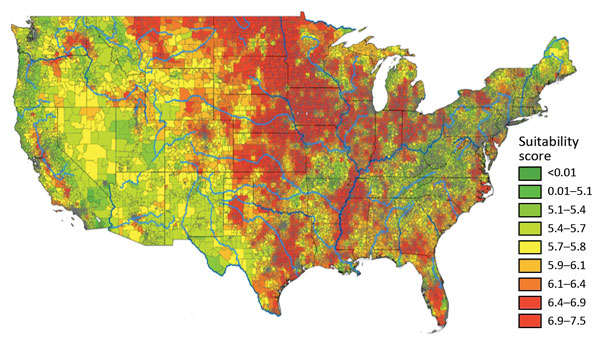 Scientists believe that the fungus Histoplasma grows best under certain environmental conditions. This map shows the results of statistical modeling that estimates where this fungus might be most likely to live. The model includes land cover, soil acidity, and distance from water, although other environmental factors can also affect where Histoplasma can live.8 On this map, higher suitability scores (in red) indicate areas that are likely to have better conditions for Histoplasma. It is important to recognize that this map is based on a statistical model and that all models have assumptions and limitations. More research is needed to better understand where Histoplasma most commonly lives.
Page last reviewed:
January 14, 2021