Digital Press Kit
Traveler's Health: 2012 London Olympics
CDC wants your travel experience to the 2012 Olympic and Paralympics Games in London this summer to be healthy, safe, and memorable.
Make sure you are up to date on your routine vaccines, including measles. In 2011, some U.S. residents who traveled abroad got measles. When they returned to the U.S. they caused 17 measles outbreaks in various communities. To read more about measles in Europe see, the measles outbreak notice.
Learn how to access medical and emergency care in London, before you go. In the event of a serious illness or injury call 999, not 911. For minor illnesses and injuries, visit a pharmacy or walk-in center –no appointment is necessary.
Look right, look left, and look right again to avoid stepping into the path of traffic. In England, people drive on the left side of the road, not the right. Your safety is important. Road traffic is one of the leading causes of injury death to U.S. travelers in foreign countries.
Talk with your doctor about how to stay healthy and safe before, during, and after your trip to the summer Olympics and Paralympics in London.
Selected Quotes
"You need more than your passport to travel to major events like the Olympic Games. Crowds, new surroundings, and a 'vacation' mentality can lead to illness or injury, which can ruin your trip. London is like a major American city in many respects, but that doesn't mean travelers should forget their common sense. With a little education and preparation, travelers can enjoy the Games, the country and great health."
-Gary Brunette, MD, Branch Chief, CDC Travelers' Health
"It's important to make a plan for your health before you travel. The National Health Service in England has great health resources for Olympic visitors that can help you learn how to find health care if you need it while in the UK. Visit Health Services in England to learn more."
–Kelly Holton, Lead Health Communicator, CDC Travelers' Health
Related Links
2012 Olympics
CDC Healthy Travel
CDC works 24/7 saving lives and protecting people from health threats to have a more secure nation. Whether these threats are chronic or acute, manmade or natural, human error or deliberate attack, global or domestic, CDC is the U.S. health protection agency.
Contact Information
CDC Media Relations
(404) 639-3286
media@cdc.gov
Spokesperson
Captain Gary Brunette, MD, MS
Graphics/Charts
Young couple taking a photo near Big Ben in London
View more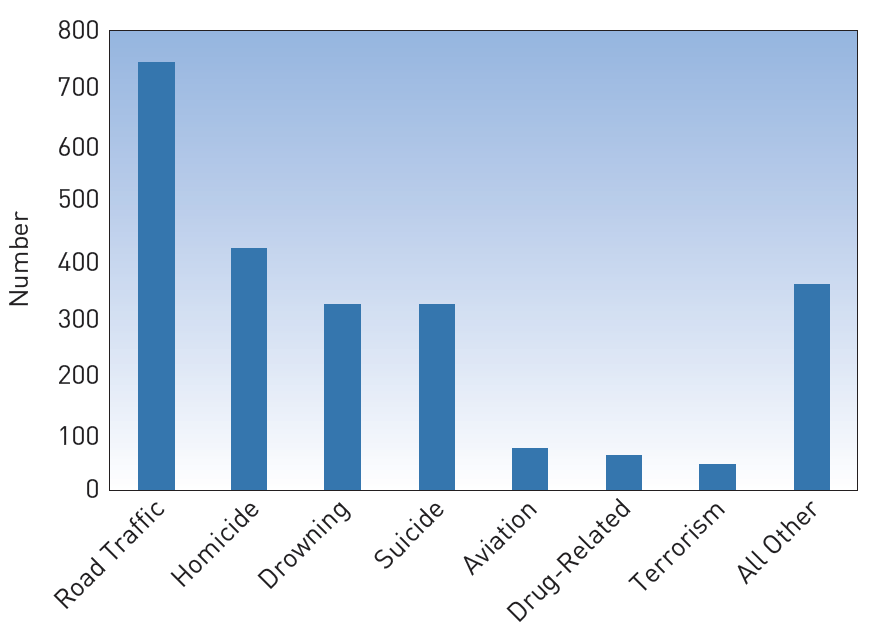 Leading causes of injury death for US citizens in foreign countries
Chart Source
or
Larger Chart
Multimedia
Podcast
RSS
Video
Documents
Get email updates
To receive email updates about this site, enter your email address:
Contact Us:
Centers for Disease Control and Prevention
1600 Clifton Rd
Atlanta, GA 30333
800-CDC-INFO
(800-232-4636)
TTY: (888) 232-6348