Vaccines and Preventable Diseases:
Pneumococcal Photos
WARNING: Some of these photos might be unsuitable for children. Viewing discretion is advised.
Photos of the Disease

Photo ID# 2896
This is a photomicrograph of Streptococcus pneumoniae bacteria having been grown from a blood culture.

Photo ID# 3149
This micrograph depicts Streptococcus pneumoniae bacteria in cerebral spinal fluid using FA staining technique.

Images of People Affected by the Disease

Photo ID# 2847
Herpes Simplex lesions on the skin of the face of a patient with pneumococcal meningitis.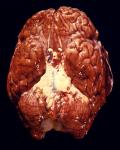 Photo ID# 6548
This ventral view of a human brain depicts a purulent basilar meningitis infection due to Streptococcus pneumoniae bacteria.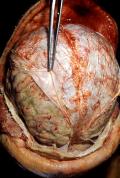 Photo ID# 33
Pneumococcal meningitis in an alcoholic.
Additional Images and Regulations
Be sure to see the regulations and copyright rules for these sites offering more images/photos.
Return to main Pneumococcal Vaccination page
Copyrighted images: Images on this website which are copyrighted were used with permission of the copyright holder and are not in the public domain. CDC has licensed these images for use in the materials provided on this website, and the materials in the form presented on this website may be used without seeking further permission. Any other use of copyrighted images requires permission from the copyright holder.
File Formats: All viewers, players, and plug-ins used on this site can be downloaded from the file formats page. (For example: Adobe Acrobat Reader for pdf files, Windows Media Player for audio and video files, PowerPoint Viewer for presentation slides, etc.)
This page last modified on May 20, 2011
Content last reviewed on May 20, 2011
Content Source: National Center for Immunization and Respiratory Diseases