Monkeypox Photos
WARNING: Some of these photos might be unsuitable for children. Viewing discretion is advised.
Photos of the Disease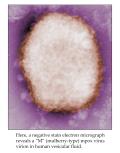 Photo ID# 10817
Here a negative stain electron micrograph reveals a "M" (mulberry type) monkeypox virus virion in human vesicular fluid. See PHIL 3945 for a black and white version of this image.
Images of People Affected by the Disease

Photo ID# 2329
Close-up of monkeypox lesions on the arm and leg of a female child.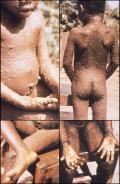 Photo ID# 12784
Outbreak of monkeypox, which took place in the Democratic Republic of the Congo (DRC), 1996 to 1997, formerly Zaire. Pictured here, in this photograph from the World Health Organization (WHO), was the face, back, feet and hands of a young boy, who'd sustained the ravages of the characteristic maculopapular monkeypox cutaneous rash.
Additional Images and Regulations
This graphic notice means that you are leaving an HHS Web site. For more information, please see the Exit Notification and Disclaimer policy.
Contact Us:
Centers for Disease Control and Prevention
1600 Clifton Rd
Atlanta, GA 30333
800-CDC-INFO
(800-232-4636)
TTY: (888) 232-6348
Contact CDC-INFO